About Us
Wege Pretzel Company located in Hanover, PA, is one of the oldest and most respected names in the pretzel baking industry. Wege (pronounced wig'gie) is the name of a family that began baking bread and rolls during the late 1800s. A German immigrant baker who was working his way across the country went to work for Wege Pretzel Company during the early 1920s. While employed, he taught the Wege Family an old German recipe for making a large Sourdough Hard Pretzel, the one for which Wege is now famous.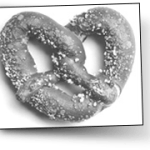 Over A Century Of Quality
The pretzel was well accepted, sales continued to increase and over time the Wege Family discontinued the production of bread and rolls in order to concentrate their efforts on the production of the Sourdough Hard Pretzel.
Since that time, Wege has expanded the physical plant, production facilities, and variety of pretzels available, as well as the geographic area in which they are sold. This has been accomplished without compromising the quality for which Wege is famous.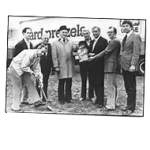 On March 31, 1976, Wege broke ground on a 25,000-square-foot expansion bringing the total to 110,100 square feet. Today's facility uses old-fashioned methods and today's technology to produce the finest pretzels in the world.
Wege's variety of pretzels now includes whole wheat varieties, flavored, all-natural, organic, and Kosher delicacies. Wege is also the leader in co-pack and private labels for high-quality customers. You can buy cheaper pretzels but we believe in only the finest. Wege also manufactures the original "Poker Pretzel" found throughout the United States.